sizing; a definitive guide to progress gis, shorts and rashguards
men's bjj gis
Finding the perfect Gi can be difficult, we know that! Most of our team have trained for 10+ years and have felt your pain of having to wear a baggy, ill fitting Gi to class! That's one of the reasons we've developed our Gis to fit you well in all the right places. We offer a wide range of Gis and they all have slightly differing sizes which I'll outline below
Below is a list of our M6 Mark 5 measurements, these can vary by +/- 2cm but overall if you're inside the boundaries of our recommended weight and height brackets for a size, it's going to be a great fit! The M6 is made from 450GSM material so has a solid feel, it's definitely our most fitted cut and perfect for competition. If you're in-between sizes or if you're reading this and it makes no sense at all, just
drop us an e-mail
 and we'll be happy to help you choose the perfect size for your body type! 👊
"So nice I bought it twice!! A1L I'm 6ft 79kg it fits perfect, top quality stylish gi will be buying progress gis exclusively from now on 🤙🏻"
"I'm 5'8 and 77KG, the A1 is my best fitting Gi to date!"
Our Academy Gi has the exact same measurements as our M6 Mark 5 kimono but the key difference is the weave of this Gi. At just 375GSM the material is a lot thinner and feels "looser" so the Gi may feel slightly baggier than the M6 when you first wear it, not to worry though! After washing, the material slowly tightens up feels just as fitted as our M6 model. 
"I love this Gi, I'm 5'7 and weigh around 160lb (72KG) and I got the A1!"
"
I love this gi!! I love how the pants get a little slimmer at the bottom! Had to dry the top to try and shrink it just a little bit cuz the sleeves were a little long. I'm 5'10" and weigh around 155-160 and I got the A1L but after that it fit really good!"
"I'm 5'11 and the A3 trousers/arm lengths are just about right! After washing they're perfect. At 100KG the jacket fits nicely on the body too"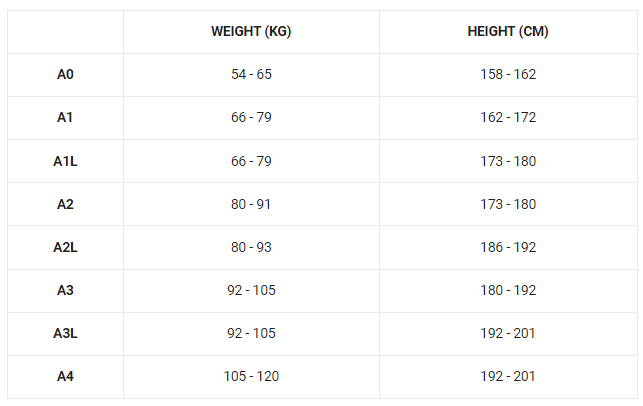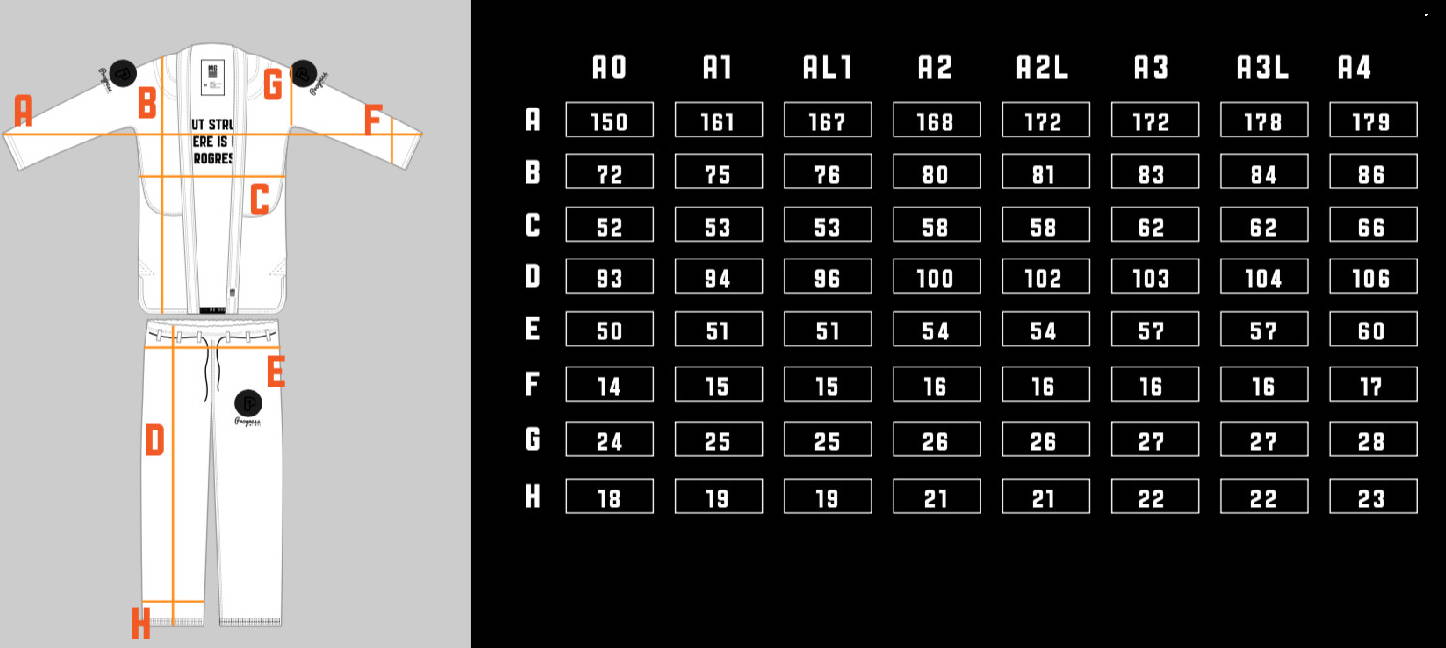 THE TEMPLE LIMITED EDITION KIMONO
The Temple follows the same sizing recommendations as our M6 Mark 5 and Academy models, however it does have a slightly different fit, compared to our competition fitted M6 model, the Temple has a looser feel. Very similar to our "Gold Label" series. The fit is still suitable for competition and training, it just sports a slightly looser fitting body and trousers.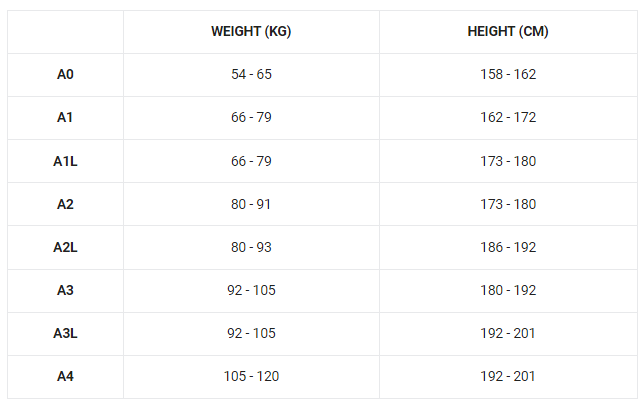 NO GI, WHERE DO I START?
Rashguards are very flexible and we recommend sizes based on weight shown in the below table. If you like looser fitting rashguards, we'd recommend going up a size! Personally I wear a Medium and at 77KG it suits me perfectly with a skin-tight fit. Our shorts are listed by their waist size in inches, the waistbands are very flexible so choosing a size down if you like the "short shorts" look is totally fine. I'm a 32" waist but wear our shorts in a small as the length is perfect for me.
If you have any queries on which sizing combination might be best for you, just drop us an e-mail and we'll be happy to help!